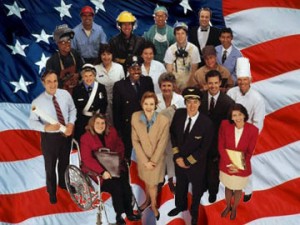 Every time a major election approaches, my dad loves to remind me, "No one is dumber than the American voter." And he's strategically counted himself out of the electoral sheep – he hasn't voted since 1972. After doing some grassroots campaigning that year for anti-war Democratic candidate, Mr. George McGovern, my mother and him witnessed McGovern lose by the largest margin in American history against Richard Nixon (every state went to Dick, except Massachusetts!). A few months later, that same winner was about to be behind bars for a hotel break-in just down the block from the White House so, since then, my dad has been hmph-ing to himself since '72. And who can blame him?
This time around, Mr. Romney's campaign is the victim of an self-proclaimed all-knowing media. And some of it for good reason: if September is any indication, the guy has no idea how to run a Presidential campaign – it's hard to deny that at this point. But, regardless of the omens, the media should never try to decide an election for us. That's our job and, looking at our track record since '72, we have no idea what we're doing.
Let's start right from where my dad left off. We'll skip over the 1976 election because, for the most part, it was a huge bore: Jimmy Carter was cleaning up the mess laid by Watergate and we excitingly moved on. Now, the 1980 fight between Jimmy Carter and Ronald Reagan is a solid story of irrationality.
A few months before the election, a handful of American hostages were captured by the Iranian government; caught in the midst of the anti-American Khomeini Revolution, their nationality stood out to a movement that was built to hate the foreigner.
At the time of capture, Carter was leading in the polls by a small margin against his Californian rival but, due to the longevity of the hostage crisis, the incumbent was seen as weak in the eyes of the American voter and his poll numbers shifted accordingly. In what was known as the 'October Surprise,' Reagan came out victorious and handed a four-year term, beating out a President that was hopefully locked up in public opinion.
After eight years of Reaganomics, the income of middle-class Americans stagnated as the rich cashed in on the return of New Wall Street and the Gordon Gekko "greed is good" mentality. With two recessions and a plethora of scandals under his belt, Reagan handed the torch to Papa Bush, who promised another four years of 'voodoo economics,' that years later, we know didn't do much to help anyone except the upper echelons of the tax code.
Against Democratic opponent, Michael Dukakis, though, all Bush had to do was drop what was known as the notorious Willie Horton ad, which placed Dukakis directly responsible for the release of a known murderer, and the election was in the bag:
Papa Bush would go on to win 40 states in the election of '88.
Soon after the landslide, a deep, dark recession hit due to the betting of New Wall Street in the Savings & Loan Crisis, which knocked the American voter back into reality. Also, Bush issued taxes when he told us he wouldn't – treason in the modern political culture.
Voila: you have President Bill Clinton.
Now, with Clinton, we see overall expected behavior from ourselves – America was undergoing the largest economic expansion in history after a rough economic burp in '94 and the dude could play the sax with Arsenio Hall. Re-election wasn't even a contentious thought in '96, especially against a man who spoke in the third person. Given, Wall Street was given its 2008 playing cards in the late '90s and the welfare state was picked bone dry by both Republicans And Democrats in Congress but none of us noticed and none of us seemed to care.
It was prosperity, in all aspects of the gleeful word.
So it made sense that the Bush/Gore election in 2000 was the closest race ever. We were riding the wave of the idea that this prosperity would never end, forgetting the constant disastrous bubbles of  past and selling houses to each like hot cakes. For us, it was like choosing which one of our children we loved more. And Bush's 'compassionate conservatism' sounded real nice.
9/11 changed everything, in terms of our mindset. We became irrational, suspicious of all danger alerts, supportive of the Patriot Act and anxious for Washington to watch over us. Even after the beginning of two unfunded wars, an enormous tax cut for the wealthy and a relatively so-so economy, we fell victim to the same attacks on John Kerry that we hear today about Mitt Romney: he rides a yacht, he's distant from the middle class and he's "too rich." It worked then and it works now.
After the tumultuous years of the highest and lowest rated President in modern history, we were tired. And this Obama guy's "hope and change" message sparked something inside of us, some vicious reaction that didn't want any rabble-rouser like President Bush near the Oval Office (Ms. Palin was close, though). Once Barack was in office, it took us only two years to elect the most fringe candidates this side of Potomac to combat his policies and only six months or so before the new Tea Party officials were speaking about Communist witch hunts in Congress.
And, now, deep into a recession with grim forecasts and some serious campaign flip-flops, nearly 50% of the country still loves Obama, no matter what.
So, the lovely media, do not call the shots with more than 35 days left until show-time. If history has told anything to us or my dad, it's that anything is possible because we, the American people, are fucking crazy.