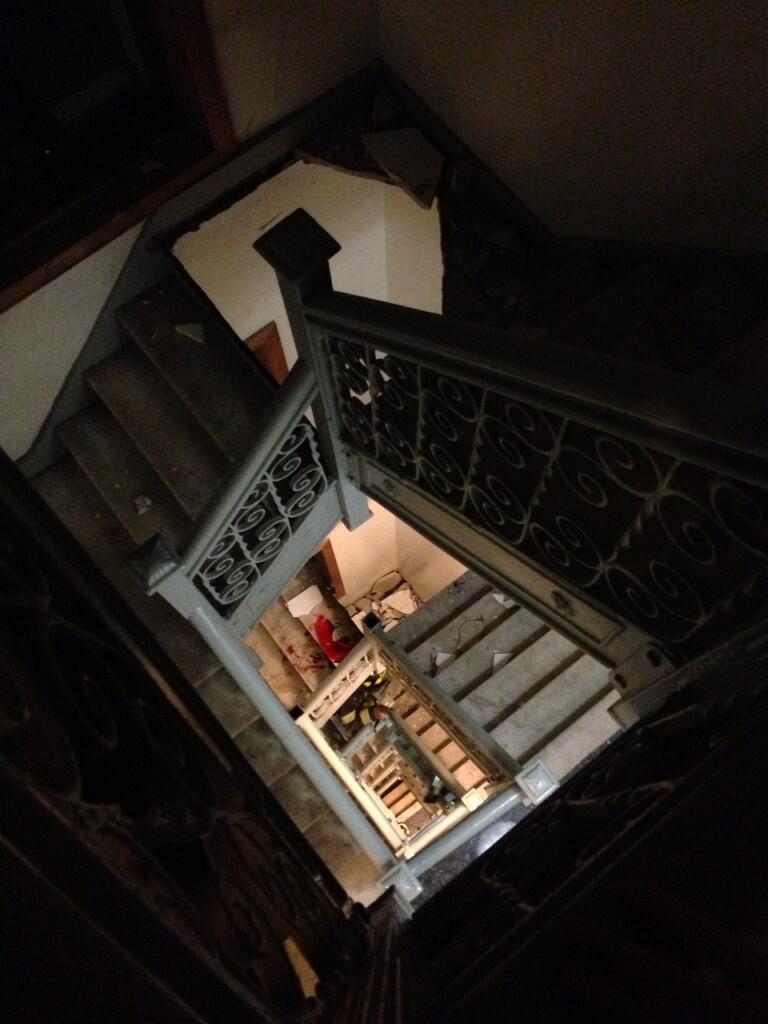 You might want to tread lightly next time you enter an East Village walkup. An NYU student's night took a turn for the horrific when three flights of stairs collapsed beneath him at a party in an East Village apartment at 1:30 this Sunday morning, leaving 30 to 40 students stranded on the roof.
Tao Niu, a 20-year-old Stern student and TA, tried jumping down a flight of stairs, the New York Post reports. But the old Second Avenue apartment couldn't withstand the stress and Niu — only about 150 pounds according to friends — crashed two stories through marble stairs. Hospital officials report Niu suffered a broken ankle and ribs — fortunate considering the height of his fall.
"Someone ran up to the DJ to stop the music," a Fordham sophomore said. "He started yelling at people to be quiet. I remember him saying 'Shut the fuck up, someone could be dead!'"
Party-goers began to flee. "Immediately people assumed someone had gotten really drunk and jumped off the roof," the Fordham student, who wished to remain anonymous said. "People got nervous (because of the cops being on their way) and fled. About 40% of the people at the party took their chances and hopped over the holes to get out."
Friends found Niu bloody and "barely moving" two floors beneath the crumbled staircase.
According to students, Niu was under the infuence at the time of the fall. "[He] was definitely a little intoxicated and probably stumbled down," a friend told the Post.
"He was very drunk," the Fordham student confirmed. "He stumbled and fell right next to me right before it happened."
With the stairs out of the picture, some of the remaining guests attempted to leave using the fire escape — but even that wasn't structurally sound. "The fire escape is not deemed to code," one person warned friends.
Now trapped on the roof, guests waited an hour for firemen to rescue them in a cherry picker while Niu was rushed to Bellevue Hospital in critical condition. Firemen also tried the fire escape when they arrived, but found that pieces were crumbling off beneath their hands. Bizarrely, since the accident, the building has since been declared habitable.
"I think the building is fairly old, but I would have assumed that because of that, the building would have been well monitored," said Dorothy Vickery (Tisch '14) who lives in the apartment. "I have a feeling they will look for structural damage in the future."
But Brittany VanBibber (CAS '14) who lives in a similar building across the street is less certain that building managers are keeping their apartments up to code. "I have been in quite a few buildings on the 9th and 2nd Ave corner and I know that the roofs there all seem pretty flimsy," she said. "I know that generally building managers don't allow it for obvious reasons."
Ultimately Niu and his friends were lucky. And some guests who didn't get worked up about the whole guy-falling-through-the-floor thing reportedly enjoyed riding on the cherry picker. "It was fun on the way down I won't lie," the Fordham student said. "We got selfies with the firemen."