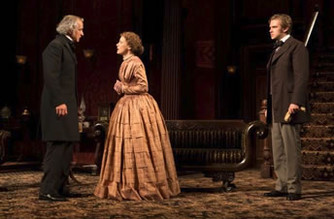 Flawless, Jessica Chastain descends the grand staircase in an opulent Antebellum mansion. When she reaches the bottom, she stops. Below her are relatives, friends, and strangers, all gazing at her beautiful red dress that nearly clashes with her auburn hair. Her father coaxes her off the bottom stair, and she retreats from the advances of her eager guests. When she finally begins to speak, the natural rhythm of her voice is strained, the tones of her voice strange compared to those of the others.
For the first few moments of director Moises Kaufman's The Heiress, I worried that Academy Award nominee Jessica Chastain hadn't made the transition from screen to stage. Her body language, speech, and mannerisms all spoke to a subtle awkwardness of a teenager. As her father, David Strathairn, reprimanded and abused her, it became clear that this stilted performance is a perfect representation of Chastain's character.
The Heiress is set in 1850 Washington Square Park, and shows the life of widower (Straithairn) and his daughter Katherine (Chastain), a shy woman who, despite pressure from her aunt (Judith Ivy), has yet to marry. Poor but handsome Morris Townshend (Dan Stevens) answers the call with his nerdy but earnest attraction to Katherine.
The play has something for everyone; fans of Gone with the Wind will love the grandeur of the set and costumes that rival that of Scarlet's curtain dress, The Real Housewives aficionado will love Ivy's witty quips, Downton Abbey watchers will gasp along with the rest, and everyone will enjoy the exciting twist ending.
Though the show closes on Sunday, the actors are just as vibrant and passionate as opening night. That doesn't mean that the show isn't without its surprises: one night, Chastain's three-legged dog, Chaplin, ran onstage during a dramatic moment. The actors had to wait for someone to coax him off and for the laughter to die down.
As Chastain moves on to bigger films (and hopefully awards!) and Stevens plans for life after Downton, it is clear that these two will always be welcome back on the stage, a place where they shine just as bright as the screen.