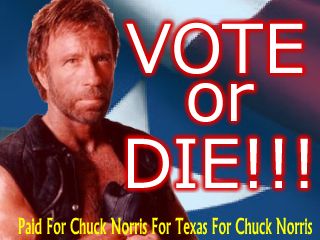 With the Republican and Democratic National Conventions behind us, let's ask ourselves, "What just happened?" 2008 saw a further reinforcement of celebrities' role in politics– from Tina Fey's wonderful impressions to Daddy Yankee's surprising endorsement of John McCain, every celebrity had an opinion and blasted it. Now it's 2012, and nearly everyone is on social media, spouting really considerate rants about the election. The same is true for non-famous minor celebrities!  Take a look at the most surprising people to make political statements so far this year.
Walker, Texas Republican
We always figured action star/meme Chuck Norris was a Republican. But we didn't know it was this bad. Chuck Norris and his wife released a video earlier this week on World Net Daily warning of "1000 years of darkness" if Obama won. Quoth the Norrises: "If we look to history, our great country and freedom are under attack. We're at a tipping point and, quite possibly, our country as we know it may be lost forever if we don't change the course in which our country is headed." They proceed to plead with their "evangelical brothers and sisters" to vote come November. Or else, y'know, a thousand years of darkness. Some people think that's racist, but it's probably just completely insane.
Inertia Is A Property of Government
Everyone's favorite Science Guy has grown increasingly vocal about his beliefs regarding creationism. Bill Nye released a video on knowledge forum The Big Think in which he pleads with those who would teach children creationism to, well, not do that. "I say to the grownups, if you want to deny evolution and live in your world, in your world that's completely inconsistent with everything we observe in the universe, that's fine, but don't make your kids do it because we need them. We need scientifically literate voters and taxpayers for the future."

Grindr: Facilitating your drunken gay hookups and civic service
Grindr, the location-based dating app for gay men, announced its campaign, Grindr for Equality, on Wednesday. Here's an example of one of the in-app messages Grindr users are likely to see. The app has begun asking users if they want to register to vote and informing them of candidates and their policies. Grindr CEO Joel Simkhai harped to Mashable, "We are a unique company where 100 percent of my audience does not have equality." Simkhai might be preaching to the choir, but he's trying to mobilize his customers, not just inform them.
Though it's a little odd that quasi-celebrities are taking it upon themselves to educate the public, we're not complaining. It's better than the usual talking heads, at least. The people crawling out of the woodwork to take sides will undoubtedly grow, so stay tuned for more election strangeness.