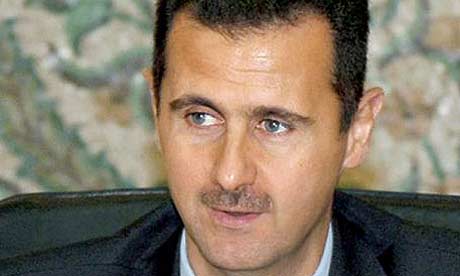 It has been over a year since the Arab Spring came to Syria and Bashar Al-Assad's monstrous regime started its crackdown on the people of Syria. 9000 Syrians have been killed over this period.
A bit over a month ago, I wrote about the complicity of China, Russia, and Iran in the mass murder being perpetrated in Syria and the role that those states have played in propping up Assad. Appallingly, since the post was published, around 2000 to 3000 more Syrians have died.
As of Tuesday, Assad has reportedly accepted a 6-point peace plan, proposed by Kofi Annan on behalf of the UN and the Arab League. Whether the plan will actually be implemented or not remains to be seen.
Foreign Policy notes that, last November, Assad accepted a "road map" for political reform proposed by the Arab League that was "never implemented." And back in December, in an interview with Barbara Walters Assad did say that the UN "has no credibility" and that dealing with the institution is "just a game" he plays.
Iraq and Syria
Annan's scheduled visit to the Arab League summit in Baghdad on Thursday will likely be an event worth watching, especially considering the fact that the hosts of the summit have stood in contrast with many of their Arab counterparts on the issue of Syria.
Prominent members of the Iraqi government — including Iraqi Prime Minister, Nouri al-Maliki — have been somewhat supportive of Assad. In fact, roughly two weeks ago The Washington Times reported that the US was concerned that Iran was using Iraqi airspace to ship "up to 30 tons of weapons" to Assad.
According to The Washington Times Iraqi government initially "refused" to comply with the US's request to stop Iranian flights or inspect Iranian planes for weapons. Though, soon after, Maliki insisted that "measures were being taken" to make sure that the planes only were only carrying "humanitarian aid."
Additionally, an Iraqi government spokesman said that the Iranian ambassador to Iraq had been informed that Iran is not allowed to transport weapons to Syria through Iraq. Since then, the Iraqi transportation minister has called the US's claims regarding Iran's misuse of Iraqi airspace "lies" and "propaganda," and a US official, quoted by Foreign Policy, noted that Iranian flights in Iraqi airspace have stopped, for now.
Indeed, in the lead up to the Arab League summit, several sources have noted that Iraq has taken a harder line against Assad. We'll see if it lasts.