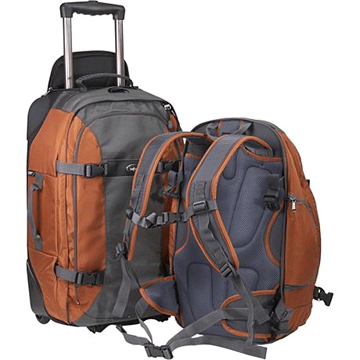 Ever since you stepped out of the house for the first day of kindergarten, the concept of wearing a backpack has become almost as subconscious as school itself. For a quarter-century of our lives, backpacks play the role of that imperative "extra limb" – to save our biological ones from the pain of carrying books and binders.
But backpacks are one of the more flexible limbs. Throughout the years our taste in style, color and dignity to wear a satchel or rolling backpack has been ever-changing. Yet, finding and wearing your version of a perfect backpack has become an unmentioned social staple – unless you wear said satchel or rolling backpack, because then you may have been teased. But no shame there.
So as the school year comes to an end, take the time to reminisce about your life through the looking glass of your backpack choices.
Although homework was a minor and forgotten detail during those elementary school days, backpacks emerged as a social staple. Ironically enough, though elementary school was arguably the most socially acceptable time to wear a rolling backpack, there weren't nearly as many heavy books and assignments as now.
Middle school was a time of social circle formations, teen angst, awareness of self-presentation and ultimately, puberty. Thus, the concept of wearing any other brand of backpack besides Jansport or Dickies was an automatic faux-pas. It is still unclear whether or not you looked cooler with your backpack slouched to your waist or pulled tightly up to your shoulders.
With even the latest of bloomers finally inching towards finding oneself in high school, backpack diversity became cool. Although Jansports and Dickies were still the norm, finding the more "unique" backpacks from Urban Outfitters or American Apparel became more prevalent. But purses or man satchels were still foreign concepts.
Now, at NYU, anything goes. Longchamp bags and purses for girls are pretty popular, and satchels for men have almost caught up to the popularity of backpacks. Although some students may want to avoid looking like a complete freshman by walking around the city in a backpack, the concept of a sporting book bag is inevitable. But some may even argue that New York City is where people are tolerant of your beliefs – yet judgmental of your backpack.
(Image Via)