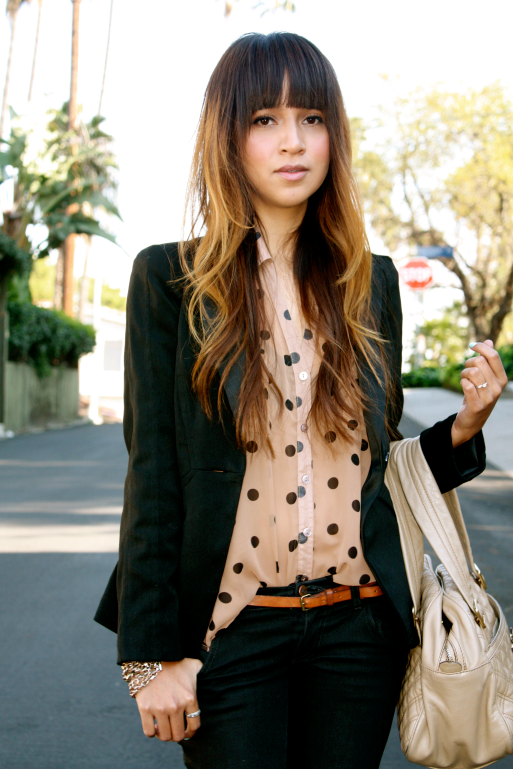 Spring is finally (kind of, sort of) in the air, and it's time to take your pasty selves out of those winter coats and start planning some skimpy, warm weather outfits. To maximize your fashion impact, however, look to these stylish bloggers for some spring fashion inspiration.
Sincerely, Jules
Julie Sarinana hails from LA, and everything she wears epitomizes laid back, effortless west coast style. Jules is the master of making trends look purposely untrendy and completely natural – browse photos of her working clogs, peasant dresses, military green, studs, and lace, all while maintaining her own brand of unique, hopelessly cool personal style.
She's also from the coast we envy, where the sun always shines and snow is unheard of– making her site doubly attractive for bouts of jealous surfing at homework intervals. And she's gorgeous.
Luxirare
There really is no need to justify following Luxirare, which may or may not be the most badass blog in fashion. The unnamed blogger behind this food x style x photography must be blessed with a life of no school and no work, because surely a ton of free time is required to create such extravagant culinary and sartorial masterpieces, such as self-baked prosciutto and cilantro potato chips, and pristine white snakeskin-banded shift dresses. Reading Luxirare gives you something like that over-indulgent dirty feeling of watching too much porn, because it surely can't be legal for a lifestyle blog to be this mesmerizing.
Park & Cube
Move over, Susie Bubble! Park and Cube's Shini Park may have just usurped the title of London's best fashion blogger export. Park's style is a bit more structured and menswear-influenced than Susie's, but lacks none of the color and quirk that is characteristic of London fashion. She's also every bit as good of a writer as Susie, and probably a better photographer. Another plus: it rains a lot in London, so browsing Park's posts can really show you how to brace the downpour in style.
Inside Am-Lul's Closet
Another blogger based in London would be Spanish stylist/creative director/it-girl Gala Gonzalez, who literally has the face and body of a Victoria's Secret model but dresses like a sassy European dominatrix. Gala's style is unisex, monochrome, utilitarian, and really, really cool. She seems to attend a fashion show every other day and a cool party the days in between. She also makes cute Youtube videos wearing sunglasses and embroidered cardigans with Beirut playing in the background. If you want someone's life, and look, to lust after, this is a blogger to follow.
Trop Rouge
Finally, a list of amazing fashion bloggers wouldn't be anything without a fabulous New Yorker. Christina Caradona of Trop Rouge embodies everything awesome about New York style. She's a little bit of everything: kind of a hippie, kind of hardcore, and kind of artsy hipster – like the melting pot that we all live in. But no matter if she's frolicking in fields wearing a printed tunic dress or posing on the streets of New York in killer heels and a fur vest, she's throwing back her head of ridiculously curly, naturally flowing hair and taunting the camera with her khol-lined eyes. She knows she's hot, and that's hot.
image via Sincerely, Jules