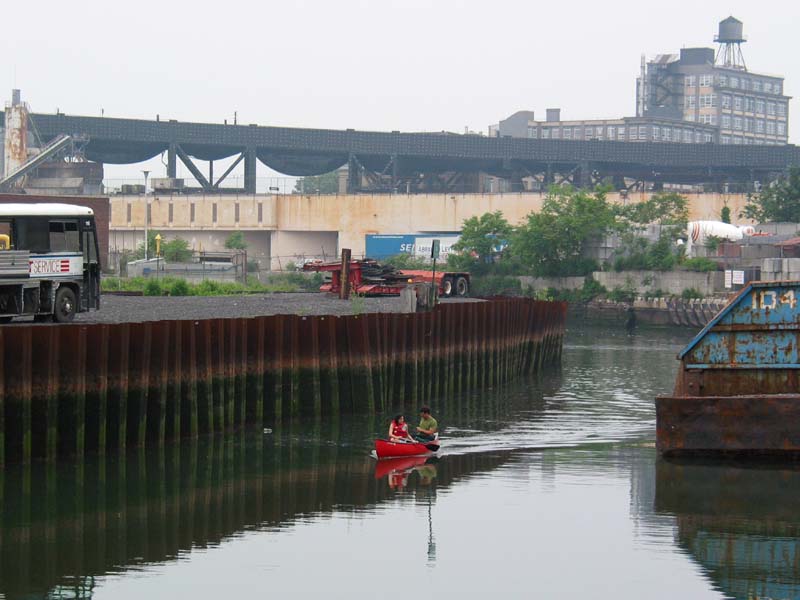 For most people, New York City is a mecca of progressive values, of gentrification, of green canvas bags filled with organic beets and hydroponic kale. But little did the mason jar-toting, cruiser-riding, Toms-wearing among us know, our city, which has been hailed as one of the most environmentally-friendly large metropolises, is actually harboring one of the most polluted areas in the country—and it lies just across the East River.
Newtown Creek, a water body running through industrial and residential areas in Brooklyn and Queens, hosts an oil slick larger that the Exxon Valdez spill – which, in case you didn't know, was one of the worst environmental disasters in history, spilling 260,000 to 750,000 barrels off the coast of California and decimating everything in reach.
But luckily, momentum is starting to build on the site's long awaited cleanup—the Environmental Protection Agency (EPA) is moving forward with plans to clean the 30 million gallons left there by the Greenpoint oil spill – a steady flow of industrial pollutants in the area that was discovered in 1978. The oil concentration, charmingly referred to by scientists as "black mayonnaise," takes the form of a 15-foot-thick layer of petroleum lining the bottom of the creek, alarmingly close to the 300,000 people living in Greenpoint nearby.
"It's the byproduct of our society," John Lipscomb of the Riverkeeper clean-water advocacy group, told the AP. "What was originally a watershed is now a sewage shed."
Although the site was originally declared a Superfund in 2010 (a site designated by the EPA as an extreme priority for mitigation), little progress has been made since then, and the site remains clearly polluted—you can even smell the chemicals' stench from the shore. Although 12 million gallons of oil have been extracted thanks in part to a $19.5 million payment by Exxon Mobil, the city's combined sewage system – another giant environmental problem in itself – is continually foiling cleanup efforts by dumping untreated waste and groundwater into the area.
Hurricane Sandy, the catastrophe that spotlighted so many other infrastructure problems in New York City, also shone a beacon on the atrocious conditions in Newtown Creek. During the storm, the waters surged over its banks, depositing all of those contaminants on the resident-thick streets of Brooklyn.
"The storm was a good thing," Mitch Waxman, who runs a blog on Newtown, told Curbed, "in that it raised people's awareness. It's kind of the wake up call to this archipelago city of ours."
Community members like the Newtown Creek Alliance hope that the damage inflicted by Sandy will attract attention to the super-polluted spot.
"The hard truth is we don't fully understand nor are we fully prepared for the area-wide effects of flooding on contaminated sites and sites that store hazardous materials," the neighborhood coalition wrote on its website following the disaster. "…Never have environmental, economic and equity concerns been so clearly aligned for Newtown Creek and New York City."